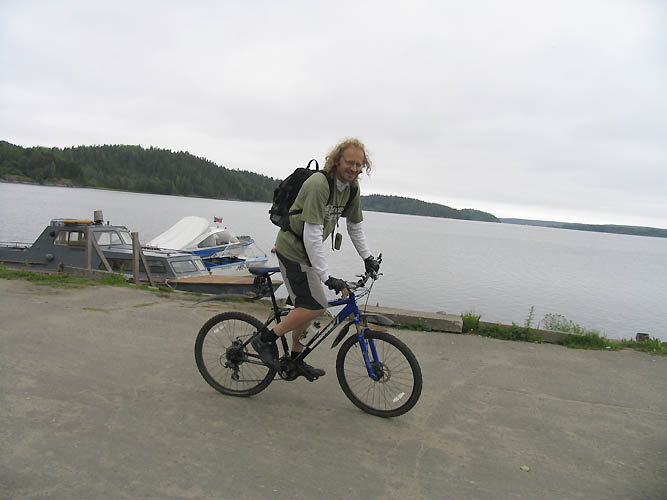 Family name: Shkrebets

First names: Alexander

Date of birth: 10.11.1961

Nationality: Russia

Civil status: Married

Education: Higher
Institution

[ Date from - Date to ]

Degree(s) or Diploma(s) obtained:

Leningrad University, Russia (1980-1990)

Geophysical studies diploma



Language skills: Indicate competence on a scale of 1 to 5 (1 - basic; 5 - excellent)
| | | | |
| --- | --- | --- | --- |
| Language | Reading | Speaking | Writing |
| Russian | mother tongue | mother tongue | mother tongue |
| English | 5 | 4 | 5 |
Other skills: (e.g. Computer literacy, etc.)
Computer skills on the level of Systems Administrator (FreeBSD, Linux), advanced user level (Microsoft, MAC OS, FirstClass)

Web-design and web-programming skills ( PHP, ZOPE,XML)

Database programming (MySQL)
Present position:
Co-directror of the Transboundary Environmental Information Agency (TEIA)

Researcher (Arctic Antarctic Research Institute).

Systems Administrator of Limnology Institute RAS.
Working experience:
Key qualifications: (Relevant to the project)
12 years experience in leading of the TEIA NGO in the Russian Federation.

15 years of experience in organization, chairing and facilitation of workshops and conferences;

Skills in project development, management, supervision and financial control of the international projects with Baltic and Scandinavian countries.

15 years of IT expert experience in the international projects.

11 years of experience as Systems Administrator for NGO network.

9 years experience in Web-programming and development of Web based systems.

Up-to-date knowledge of the state of the environment in Russia.
Specific experience in the region:
| | |
| --- | --- |
| Country | Date from - Date to |
| Estonia | 1993 - present |
| Baltic Sea region | from 2001 to present |
Professional experience
Date from - Date to

Location

Company

Position

Description

June 2004 - June 2007

Russian Federation

UNEP/GRID-Arendal

project manager, consultant

Establishing of the environmental information network in the Northwest Russia

January-2007 - present

Russian Federation

Ecocentrum, St.Petersburg

co-director

Environmental exhibition, training and workshop center

January 2008

present

Russian Federation

NGO Round Table about Nord Stream AG project

co - organizer

International discussion and Environmental Impact Assessment on the gas pipeline on the bottom of the Baltic Sea

June 2004 – May 2005

Russian Federation

EA of England and Wales

project manager

Development of the local environmental information system for the city of Pskov

January 2003 - present

Estonia, Russia

UNDP GEF

IT Expert

IT consultation for the project, administration of the server for Russian part of the project.

May 2001- present

CBSS Countries

Baltic NGO's Forum

national coordination

committee member (voluntary)

Organizing of participation of the Russian Environmental organizations in the annual Baltic NGO Forum




1996 - present

Russian Federation

TEIA

Co-director and executive

director

Transboundary Environmental Information Agency, dessimination of the environmental information in the Baltic region for NGO , NGO networking on the Northwestern Russia.



14. Contact information:
Alexander Shkrebets
E-mail: sasha@teia.org
http://www.teia.org